If you are looking for a unique gift, we have books, artist quality prints of our original artwork, along with posters and cards that make The Perfect Gift.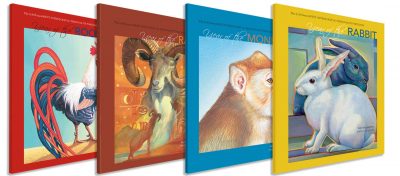 The 12 East meets West Astrological Personality Portraits Books. Each book offers invaluable insights into our very souls. Full color illustrations of our commissioned art are featured in every book. Dozens of images relating to the Eastern Animal are combined with the Western Star signs each title explores.
2022 is a year of the Rooster.
As the sun moves around the sky it forms a large circle over the course of a year. The circle, divided into its twelve parts, passes through what are known as constellations, which are visible in the night sky. Each part is called a constellation.  The Western Astrology signs are named for these twelve constellations we can see in the night sky during the year. The constellations are named according to their shape, which are made by connecting bright stars with lines.
Astrologists divide the year into 12 periods; during each period, the sun is in a different constellation. The 12 western astrology signs are Aries, Taurus, Gemini, Cancer, Leo, Virgo, Libra, Scorpio, Sagittarius, Capricorn, Aquarius and Pisces. These different sun signs of the zodiac influence our characteristics and personality traits,  based on the period the person is born in.
About the Author
Ruth May-Hoffman spent years collecting and interpreting valuable stories and detailed interpretations about not only the  Western Zodiac signs and the Eastern Animal signs. More importantly, she shows us how the two combine to make up the true Astrological Personality Portrait. Ms May-Hoffman has a considerable background in the arts. She selected 6 highly renowned, gifted artists to create the paintings featured in our books and other gift items. You can find out more about the artists by reading our Artist page.
East meets West offers unique, breathtaking, original artwork in all our perfect gifts – full-color prints, posters, and notecards, or books. Just look at just a sample of the amazing images we have for you. You can see Tiger-Pisces, Dragon-Cancer, Dog-Gemini and more combinations. Only by looking at both Eastern Animal and Western Star Signs do we find the TRUE personality portrait of each individual. Explore our Shop to find the ones you are looking for. They really are The Perfect Gift. Remember, if you don't know the signs: Find Your Combined Signs
---
East meets West Astrology Personality Gifts
If you are looking for a truly dazzling gift, consider East meets West. Visit our SHOP to order using our secure checkout process.